Looking for a way to start your day off right? Look no further than "Delicious Oatmeal Recipes for Perfect Breakfast." This product provides a collection of mouthwatering oatmeal recipes that are sure to satisfy your taste buds and give you the energy you need to tackle the day ahead. From classic flavors like blueberry and cinnamon to unique combinations such as chocolate peanut butter and coconut lime, these recipes will have you excited to wake up in the morning. With easy-to-follow cooking instructions, creating a nutritious and delicious breakfast has never been easier. Say goodbye to boring breakfasts and hello to a world of flavor with "Delicious Oatmeal Recipes for Perfect Breakfast."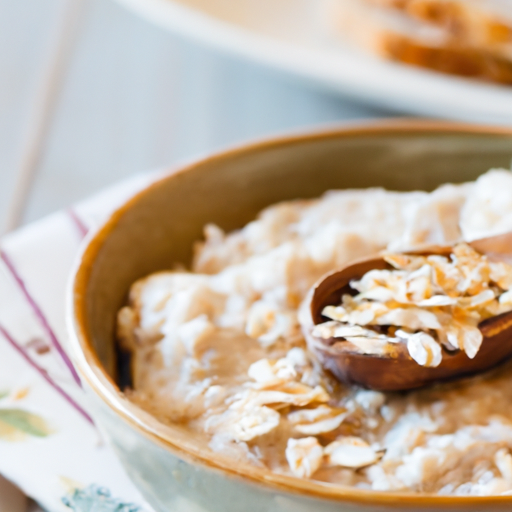 Basic Oatmeal Recipe
Oatmeal is a versatile and nutritious breakfast option that can be enjoyed in a variety of ways. Whether you prefer sweet or savory, baked or smooth, there is a delicious oatmeal recipe out there for you. In this comprehensive article, we will explore a wide range of oatmeal recipes that are sure to satisfy your taste buds and keep you fueled throughout the day.
Ingredients
To make a basic oatmeal recipe, you will need the following ingredients:
1 cup of rolled oats
2 cups of water or milk (dairy or plant-based)
1/4 teaspoon of salt (optional)
Sweeteners and toppings of your choice
Instructions
In a medium-sized saucepan, bring the water or milk to a boil.
Stir in the rolled oats and salt, if using.
Reduce heat to low and let the oatmeal simmer for about 5 minutes, stirring occasionally.
Once the oatmeal reaches your desired consistency, remove from heat.
Serve hot and add your favorite sweeteners and toppings, such as honey, fruits, nuts, or spices.
Sweet Oatmeal Recipes
If you have a sweet tooth in the morning, these delicious sweet oatmeal recipes are just for you. They are packed with natural flavors and will surely satisfy your cravings.
Banana Nut Oatmeal
This recipe combines the creamy texture of ripe bananas with the crunchy goodness of chopped nuts. To make banana nut oatmeal, simply add sliced bananas and a handful of your favorite nuts, such as walnuts or almonds, to your basic oatmeal recipe. Drizzle with a touch of honey or maple syrup for an extra touch of sweetness.
Apple Cinnamon Oatmeal
For a taste of apple-pie-inspired oatmeal, try this recipe. Dice a fresh apple and simmer it along with your oats, water or milk, and a sprinkle of cinnamon. The apple will soften and release its natural sweetness, making for a comforting and flavorful bowl of oatmeal.
Blueberry Almond Oatmeal
If you love the combination of berries and nuts, this recipe is a winner. Add a handful of fresh or frozen blueberries to your oatmeal while it cooks. Once the oatmeal is ready, sprinkle some sliced almonds on top for a satisfying crunch. The burst of tart blueberries complements the nuttiness of the almonds perfectly.
Savory Oatmeal Recipes
For those who prefer a savory start to the day, these hearty oatmeal recipes are sure to please. They incorporate savory ingredients that add depth and flavor to your breakfast.
Cheesy Mushroom Oatmeal
This recipe takes oatmeal in a savory direction by adding sautéed mushrooms and a sprinkle of your favorite cheese. Sauté sliced mushrooms in a bit of olive oil until golden brown, then stir them into your cooked oatmeal. Top it off with a sprinkle of shredded cheese and let it melt for a gooey and satisfying breakfast.
Spinach and Feta Oatmeal
For a fresh and savory twist, try adding wilted spinach and crumbled feta cheese to your oatmeal. Sauté a handful of spinach until wilted, then stir it into your cooked oatmeal along with some crumbled feta. The creamy tang of the cheese pairs perfectly with the earthy flavor of spinach.
Sundried Tomato and Parmesan Oatmeal
If you're a fan of Italian flavors, this savory oatmeal recipe is for you. Add chopped sundried tomatoes, grated Parmesan cheese, and a sprinkle of dried basil to your cooked oatmeal for a burst of Mediterranean flavors. It's a unique and delicious way to enjoy your oats in the morning.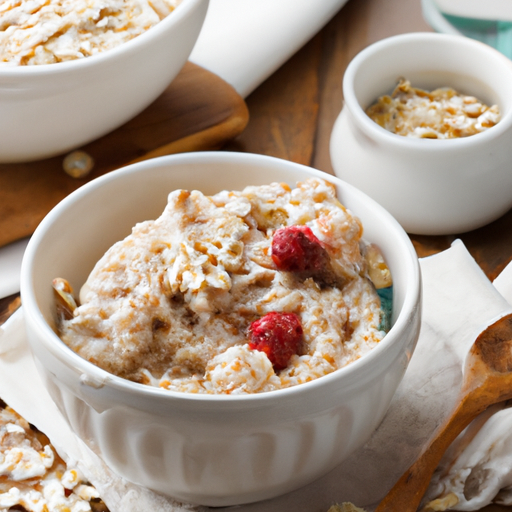 Healthy Oatmeal Recipes
Oatmeal is not only delicious but also incredibly nutritious. These healthy oatmeal recipes are packed with wholesome ingredients that will give you a great start to your day.
Chia Seed Oatmeal
Chia seeds are a nutritional powerhouse, packed with fiber, protein, and omega-3 fatty acids. To make chia seed oatmeal, simply stir a tablespoon of chia seeds into your cooked oatmeal. Let it sit for a few minutes to allow the chia seeds to absorb some liquid and thicken. Top with your favorite fruits and nuts for added flavor and texture.
Protein-Packed Oatmeal
Boost the protein content of your oatmeal by adding a scoop of your favorite protein powder. Stir it into your cooked oats along with some milk or water to create a thick and creamy texture. Top with fresh berries or sliced almonds for a well-rounded and satisfying breakfast.
Green Smoothie Oatmeal
Combine the benefits of a green smoothie with the heartiness of oatmeal with this recipe. Blend a handful of spinach or kale with your choice of milk, and then cook your oats in the mixture. The result is a vibrant and nutrient-packed bowl of oatmeal that will fuel you throughout the morning.
Baked Oatmeal Recipes
Baked oatmeal is a delightful way to enjoy this breakfast staple. These recipes can be prepared ahead of time and enjoyed throughout the week, making them perfect for meal prep or feeding a crowd.
Maple Pecan Baked Oatmeal
If you're a fan of the sweet and nutty combination, this baked oatmeal recipe is a must-try. Combine rolled oats, chopped pecans, maple syrup, milk, and eggs in a baking dish. Bake until golden and set, then cut into squares and serve. It's like having dessert for breakfast!
Raspberry Chocolate Chip Baked Oatmeal
For a decadent twist on traditional oatmeal, try this recipe. Mix rolled oats, fresh raspberries, chocolate chips, milk, and a touch of honey in a baking dish. Bake until the top is golden and the chocolate is melted, creating a rich and gooey treat that will satisfy any chocolate lover.
Pumpkin Spice Baked Oatmeal
Indulge in the flavors of fall with this delightful baked oatmeal recipe. Combine rolled oats, pumpkin puree, warm spices like cinnamon and nutmeg, and maple syrup in a baking dish. Bake until it's firm and golden, and enjoy the cozy flavors of pumpkin spice in every bite.
Oatmeal Pancakes
Are you craving pancakes but want to have a nutritious breakfast? Look no further – oatmeal pancakes are here to save the day. These pancakes are packed with fiber and are a great way to switch up your morning routine.
Classic Oatmeal Pancakes
Start by blending rolled oats in a food processor until they become a fine flour. Combine the oat flour with baking powder, milk, eggs, and a touch of honey or maple syrup. Cook the pancakes on a lightly oiled griddle or pan, flipping them when bubbles form on the surface. Serve with your favorite toppings, such as fresh fruit or a drizzle of pure maple syrup.
Blueberry Oatmeal Pancakes
Take your oatmeal pancakes to the next level by adding juicy blueberries. Simply mix fresh or frozen blueberries into the pancake batter before cooking them. When the blueberries warm up during cooking, they burst with flavor, creating a delightful burst of sweetness in every bite.
Chocolate Banana Oatmeal Pancakes
For a decadent treat, try these chocolate banana oatmeal pancakes. Mash a ripe banana and mix it into the pancake batter along with some cocoa powder. Cook the pancakes until they are fluffy and cooked through. The combination of chocolate and banana is a match made in breakfast heaven.
Oatmeal Smoothies
For those busy mornings when you don't have time to sit down for a meal, oatmeal smoothies are a convenient and nutritious option. These recipes allow you to enjoy all the benefits of oatmeal in a portable format.
Banana Oatmeal Smoothie
Blend rolled oats, a ripe banana, milk, and a sweetener of your choice, such as honey or dates. The smoothie will have a thick and creamy consistency, thanks to the oats. It's a great on-the-go breakfast option that will keep you full and energized until lunchtime.
Strawberry Oatmeal Smoothie
This refreshing smoothie combines the sweetness of fresh strawberries with the heartiness of oats. Blend strawberries, rolled oats, Greek yogurt, and a splash of milk until smooth and creamy. It's a tasty way to incorporate fruits and whole grains into your morning routine.
Peanut Butter Oatmeal Smoothie
Peanut butter lovers, rejoice! This smoothie combines the rich and nutty flavor of peanut butter with the wholesomeness of oats. Blend rolled oats, peanut butter, milk, and a drizzle of honey for a protein-packed and satisfying breakfast that will keep you fueled and focused.
Overnight Oats
If meal prep is your thing or you simply prefer to have breakfast waiting for you in the morning, overnight oats are a game-changer. These recipes require just a few minutes of prep the night before, and in the morning, you'll have a delicious and ready-to-eat breakfast.
Vanilla Overnight Oats
In a jar or container, combine rolled oats, your choice of milk, a splash of vanilla extract, and a sweetener of your choice, such as maple syrup or agave nectar. Give it a good stir, then cover and refrigerate overnight. In the morning, your oats will be soft and creamy, ready to be enjoyed. Add your favorite toppings, like fresh fruits or a sprinkle of granola, for some extra crunch and flavor.
Mango Coconut Overnight Oats
Transport yourself to a tropical paradise with this delicious overnight oats recipe. Combine rolled oats, coconut milk, diced mango, and shredded coconut in a jar. Let it sit in the fridge overnight, and in the morning, you'll have a refreshing and flavorful breakfast that will make you feel like you're on vacation.
Cinnamon Raisin Overnight Oats
For a classic and comforting flavor combination, try these cinnamon raisin overnight oats. Mix rolled oats, almond milk, ground cinnamon, and a handful of raisins in a jar. Let it chill in the refrigerator overnight, and wake up to a breakfast reminiscent of a freshly baked cinnamon raisin muffin.
Instant Pot Oatmeal Recipes
If you're a fan of using your Instant Pot, look no further – these oatmeal recipes are perfect for you. They allow you to enjoy a warm and comforting bowl of oatmeal with minimal hands-on time.
Cranberry Orange Instant Pot Oatmeal
Combine rolled oats, water or milk, dried cranberries, orange zest, and a touch of maple syrup or honey in your Instant Pot. Set it on manual mode for a few minutes, and let it do its magic. The result is a fragrant and delicious oatmeal infused with the flavors of cranberry and orange.
Peanut Butter Banana Instant Pot Oatmeal
For a protein-packed and creamy oatmeal, try this recipe. Add rolled oats, water or milk, mashed banana, peanut butter, and a sprinkle of cinnamon to your Instant Pot. Set it on manual mode, and let it cook to perfection. The combination of peanut butter and banana creates a rich and satisfying breakfast.
Maple Brown Sugar Instant Pot Oatmeal
Indulge in the flavors of maple and brown sugar with this Instant Pot oatmeal recipe. Combine rolled oats, water or milk, maple syrup, brown sugar, and a pinch of salt in your Instant Pot. Cook on manual mode, and in just a few minutes, you'll have a warm and comforting bowl of oatmeal that will make you feel like you're enjoying breakfast at a cozy cabin in the woods.
Toppings and Mix-ins
No oatmeal is complete without some delicious toppings and mix-ins to enhance the flavor and texture. Here are some ideas to get you started:
Fresh Fruits
Sliced bananas
Fresh berries: strawberries, blueberries, raspberries
Diced apples or pears
Chopped mango or pineapple
Halved grapes
Nuts and Seeds
Sliced almonds
Chopped walnuts or pecans
Sunflower seeds
Pumpkin seeds
Chia seeds or flaxseeds
Sweeteners and Spices
Honey, maple syrup, or agave nectar
Cinnamon
Nutmeg
Vanilla extract
Shredded coconut
Feel free to mix and match these toppings and mix-ins to create your own unique oatmeal creations. The possibilities are endless!
In conclusion, oatmeal is not only a nutritious breakfast option but also a canvas for creativity in the kitchen. Whether you prefer sweet or savory, baked or smooth, there is an oatmeal recipe out there that will suit your taste buds. From classic flavors to exotic combinations, the recipes in this article are sure to inspire you to experiment with different ingredients and create delicious oatmeal dishes that will keep you satisfied and energized throughout the day. So grab your bowl, your favorite toppings, and get ready to enjoy a perfect breakfast with these delicious oatmeal recipes.